1.1.
What is Theology and What Do Theologians Do?
1.1.1.
What is Theology?
One way to think about the word "theology" is through its etymology (where the word comes from). Theos (θεος) is the Greek word for "god." The ending "-logy" is often translated as "the study of," but the Greek word logoi (λογοι) actually means, "words." Thus etymology suggests that theology consists of the words we use to talk about God. Although the object of study is God, the words are human words which we struggle to understand, define, and use.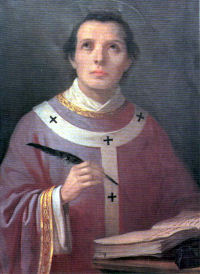 The classical definition of "theology" was offered by Anselm in the eleventh century. He called theology fides quaerens intellectum, "faith seeking understanding."
Notice that "faith" comes first. Theology, unlike religious studies (below), takes belief as a starting point. Belief is not so much the result of theology, but the beginning of theology. For most of us, faith is not something that we were talked into through a series of propositions and arguments. Rather, faith usually grows inside of us without our awareness, through our families, culture, and ultimately God's own action. Theology usually takes some sense of faith as a starting point and builds from there.
"Seeking" is the key verb for what we are doing when we "do theology." It is a process that never truly ends, but always brings us closer to something worthwhile. The Latin word quaerens is related to "query," and fits the "questioning" theme of this course. We are asking questions and seeking meaning. We are building on the history of meaning that others have found. It is an ongoing quest, not a closed body of knowledge to learn.
It might be possible to have a heartfelt or intuitive internal understanding, but theology is an intellectual kind of understanding, as indicated by the Latin word intellectum. Intellectual understanding occurs in the mind and can be expressed in words. It is possible to have faith without understanding; my great-grandmother was a woman of remarkable faith even without theological education. The study of theology will not make you a better Christian than my great-grandmother. It is, however, an essential part of a well-rounded intellectual education.
1.1.2.
What is the difference between theology and religious studies?
Theology and Religious Studies are both important academic disciplines. It is possible to mix them, but basic differences remain. Secular public universities, such as the University of Texas, may include religious studies, but theology is mostly found in private universities.
Religious Studies aspires to neutrality in the study of religions, without favoring any one religion as more true or central than another. One can study the behavior of religious people and societies as a sociologist or anthropologist, without ever asking whether a god is responding to the prayers and rituals. One can study the literature of religious people without caring whether the Bible's claims about Jesus are more relevant than Shakespeare's claims about Hamlet. Religious studies takes religions as the object of study from without.
Theology studies a religious tradition from within. It can occur with awareness and consideration of other traditions, but it takes one faith tradition as a starting point. It should be fair, but it does not try to be neutral. It may build on historical knowledge of facts, but it seeks meaning beyond the scientific description of human behavior.
This course follows a path of questioning related to Christianity. Students in the class will learn more about the Christian tradition than they will about Islam or Buddhism. We do not aspire to cover equally every religion and way of thinking about God. However, the questions can be asked within any tradition, and the ability to think clearly and articulate ideas about God does not presume any one set of answers. A good grade will require knowledge of what others (mostly Jews and Christians) have thought; it will not require agreeing with them.
1.1.3.
What is the difference between theology and catechesis?
Catechesis means "teaching." It usually means teaching the current set of answers to theological questions without too much concern for the history or diversity of thought on the issue. Catechesis is typical for teaching children the beliefs and practices of a faith tradition (especially if the child is not like me, always asking "why?"). Catechesis is also appropriate for adults who join a religion that they did not grow up with. More so than theology, catechesis is concerned with a single faith tradition, and only the present teaching.
This course aspires to accurately represent the current Catholic teaching on major theological questions, but it will also include other perspectives. If it is important to you to keep straight what the Catholic Church currently teaches and align your thinking with the official thinking, you should be sure to have on your shelf a copy of The Catechism of the Catholic Church (or a link to usccb.org).
I think of catechesis as a snapshot of theology. Theology is an ongoing process. Many people over thousands of years have contributed to the tradition of teachings that make up the current teachings of the Catholic Church. Meanwhile, the process of theology continues to move forward, and in fifty years there will be a revised Catechism based on the work of theologians today. Theologians are aware of the past, articulate the present, and are ultimately responsible for building the future.
1.1.4.
What do theologians do?
Many thinking, intellectual people of faith do theology, and also have other professions and titles. Someone whose main professional title is "theologian" probably spends most of the day teaching in a department of theology and writing books and articles that offer a deeper understanding of our past tradition, a better way of articulating our faith, or new ways of thinking about our faith. Like most professions, any one theologian has a basic knowledge of the field as a whole, and a specialization in a particular area.
1.1.5.
What are the major areas of theology?
There is no universal set of categories and titles for the areas of theology, but almost all theology programs would distinguish at least three major areas.
The word "Bible" comes from Greek
ta biblia
(
τα βιβλια
), "the books." Today Bibles are bound in one single big book, but it is really a book of books. For Jews the Bible has 22 books, but those same books can also be counted as 39. Christians call these books the Old Testament, and also count 27 books about Jesus as the New Testament. Some additional books are considered part of the Bible by some Christians but not others.
Biblical theology seeks questions and meanings from the Bible. This includes the ideas of the ancient authors of the Bible, but it also includes the history of interpretation. Over the past 2000 years, Jews and Christians have sought and found meanings in the Bible beyond what the human authors could have imagined. That is okay, particularly because almost all Jews and Christians recognize a Bible (there are different Bibles) as revealed or divine in origin in some way. Just as God cannot be fully grasped (though we can always try to get closer), the Bible is an endless source of interpretation and meaning beyond what any human comprehended in the past. In the Catholic Church the primary emphasis is on understanding the divine meanings of the Bible as expressed by particular human beings in particular historical contexts. Advanced study of the Bible involves reading the Bible in its original languages (Hebrew, Aramaic, and Greek) and related ancient literature and history. At St. Mary's the specialists in biblical theology are Drs. Hanneken, Ronis, and Gray.
Moral theology focuses on how the Christian life should be lived through our moral choices. Moral theology builds on theory of sin, conscience, forgiveness, and reconciliation. Sometimes it involves firm teachings on specific moral issues, and sometimes complex ways of thinking about open-ended and ambiguous dilemmas. Two major sub-areas in moral theology are social justice and medical ethics. Social justice considers how a Christian should respond to injustices in the world, such as inequality (racism, sexism), and economic injustice (poverty, living-wage, social security). Medical ethics deals with the sanctity of life, particularly at its beginning (embryos and fetuses) and end (life support, euthanasia). At St. Mary's Dr. Ball focuses on social justice and Dr. Getz focuses on medical ethics.
Systematic theology focuses on articulating the traditional faith in light of new ideas in philosophy and culture. The term "systematic" refers to the idea that every individual belief should be consistent with every other belief, as part of a larger "system." The biblical writers and great theologians of the past never really considered or faced the specific challenges of modern science, globalization of war and commerce, democracy, feminism, genocide, and so forth. Systematic theology tries to find a consistent way of responding to these challenges through engagement with the existing traditions of Christianity. At St. Mary's the specialist in systematic theology is Dr. Buhrman.
Some theology departments use additional categories, such as the history of Christianity, liturgical studies, and spirituality.
1.1.6.
What kinds of courses do theology majors take?
The major in theology at St. Mary's calls for ten theology courses distributed between the areas of Scripture and Thought and Practice. The course catalog gives descriptions more thorough than these brief summaries.
Old Testament… survey of all or part of the writings of the Israelites and early Jews
New Testament… survey of all or part of the writings of the first followers of Jesus of Nazareth
Moral Theology… the theory and practice of doing the right thing. Abortion? Euthanasia? Is this just personal opinion? When is it not okay to just agree to disagree?
Catholic Social Ethics… do religion and politics mix? Religion and work? Faith and citizenship? What does it mean to be a Christian other than Sunday morning?
Health Care and Medical Ethics… does stem cell research save lives or take lives, or both? If my brain is dead and a machine is making my heart beat, am I alive?
Christology… is Jesus God? Human? Both? Neither? What has he done for me lately?
Ecclesiology… what is the Church? Do we need it?
Sacraments… how do certain objects and actions in particular become encounters with the divine?
Theology in the Southwest… how do regional language and culture, particularly those of the Southwest, shape experiences of faith?
1.1.7.
What do theology majors get paid to do?
The theology major/minor can combine with other majors/minors in many interesting ways. Christianity is involved in a variety of endeavors besides Sunday morning worship, so theological training could come in handy in all sorts of areas such as non-profit/charity business leadership, healthcare, law and government, and media studies. The most direct areas of employment are teaching and parish work. A B.A. in Theology would be enough to teach in a catholic grade school or high school. It would also qualify one for jobs in youth or other parish ministry. One could continue study for the degree Master of Arts, which generally takes two years. In order to teach college level theology and write books one should plan on five years to pursue a Ph.D.
Sample job description for a professor of biblical theology
The Ecclesiastical Faculty of the Boston College School of Theology and Ministry seeks applications for a full-time, open-rank, tenure-track position in New Testament. Candidates should be prepared to teach courses appropriate for the Master of Divinity, as well as offerings for other theology and ministry students at the master's and doctoral levels concerning most or all of the following topics: Synoptic Gospels, Acts of the Apostles, John's Gospel and Johannine literature, the writings of Paul and the later Pauline writings, the Book of Revelation, and Christian Apocryphal Literature. Candidates must be committed to core Catholic teachings and approach their teaching and research in an interdisciplinary way, with sensitivity to pastoral needs and cultural diversity. Applicants should be able to demonstrate strong teaching and research ability, including the ability to contribute to the formation of Jesuits and other candidates approved for ordination studies, and of women and men for lay ecclesial ministries and for service rooted in faith. To be considered, applicants must hold an earned doctorate in New Testament.